The acrylic base boasts a sleek but unassuming profile that enhances the look of your globe without stealing focus.
The trademarked three-prong base supports the globe above a table or desk top, making it appear as if it is suspended in air.
Premium acrylic
Transparent color coordinates with any decor
3-pronged supports 4.5", 6", and 8" MOVA Globes
Dimensions
| Globe Size | Base Width | Base Height |
| --- | --- | --- |
| 4.5" | 2.72" | 2.36" |
| 6" | 3.98" | 3.15" |
| 8.5" | 4.72" | 3.35" |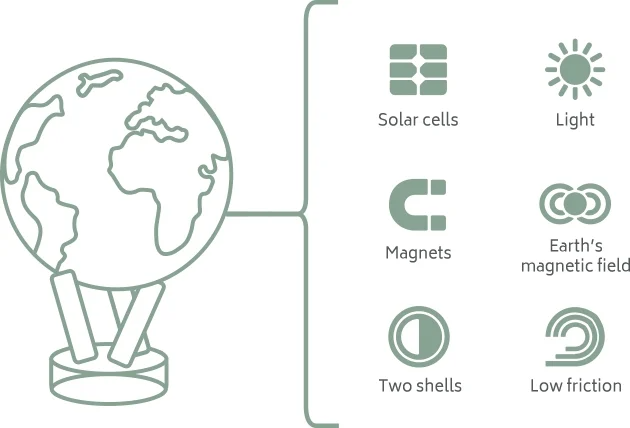 MOVA Globes combine effortless performance with eye-catching graphics. Each handcrafted globe mingles vibrant artwork with our patented technology for flawless rotation without batteries or messy cords. Hidden solar cells use ambient light for power, while the earth's magnetic field provides the necessary torque. These elements work in unison to power a whisper quiet mechanism, allowing the globe to rotate within a clear outer shell. Each piece is assembled with such precision, it appears the inner and outer layers are one – rotating without any outside power source.
MOVA Globes are assembled by hand using the highest quality materials. Every MOVA Globe is guaranteed to be free from defects in materials and workmanship for 1 year from the original date of purchase when handled with proper care.