The Little Prince B612 Globe
Travel through space with The Little Prince on his beloved Asteroid B612. This limited-edition globe features a charming design that captures the timeless lessons of Antoine de Saint-Exupery. Paired exclusively with a customized 75th anniversary crystal base.
* Not eligible for promotional offers
Written in 1943 by pioneering aviator, best-selling writer, and humanist, Antoine de Saint-Exupéry, The Little Prince is an artistic masterpiece that highlights humanity, friendship, authenticity, and charity. While the imagery is charming on paper, adding it to our globes gives new life to this classic novel. Sitting atop his beloved Asteroid B612 with the fox and an enchanted rose is The Little Prince. The Asteroid's erupting volcanoes and tones of blues and grays capture the details of the lessons taught throughout the entire story. The humanitarian values of this classic and as part of MOVA's commitment to giving back, a percentage of proceeds from the limited The Little Prince collection will benefit the St. Jude Children's Research Hospital®, the world's leading hospital working to cure childhood cancer and other life-threatening diseases.
The Little Prince B612 MOVA Globe
Turns using ambient light
Hidden magnets provide movement
No cords or batteries
Paired with a customized 75th anniversary crystal base
Comes in an exclusive custom box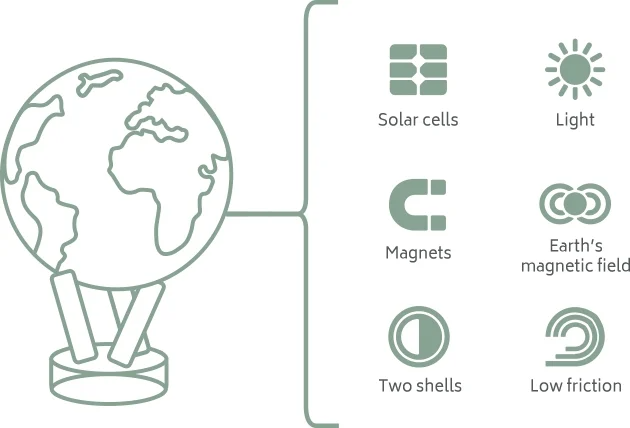 Each globe combines vibrant artwork with our patented technology, creating a flawless rotation without batteries or messy cords. Hidden solar cells use ambient natural or artificial light for power, while the earth's magnetic field provides the necessary torque. These elements work seamlessly to power a 'whisper-quiet' mechanism, allowing the globe to rotate within its clear outer shell. Each piece is assembled with such precision, it appears the inner and outer layers are one – rotating without any outside power source.
MOVA Globes are assembled by hand using the highest quality materials. Every MOVA Globe is guaranteed to be free from defects in materials and workmanship for 1 year from the original date of purchase when handled with proper care.