Situated just 45 miles southeast of Houston, Texas is Galveston Island, a small barrier island known for its historical and cultural significance. A center of trade and a gateway for thousands of immigrants, the island is now preserved by the Galveston Historical Foundation (GHF) and is home to many historic sites making it a must-see tourist destination. John Schaumburg III, assistant director of the Texas Seaport Museum, spoke with us about GHF's preservation and MOVA Globes' appeal to visitors and tourists alike.
1) Tell us a little bit about the foundation and its role in preserving Galveston Island.
Incorporated in 1954, Galveston Historical Foundation (GHF) is one of the nation's largest local preservation organizations. Over the last 50 years, the foundation has expanded its mission to encompass community redevelopment, public education, historic preservation advocacy, maritime preservation and stewardship of historic properties. Today, GHF has over 2,000 memberships representing individuals, families, and businesses across Texas, the US and abroad and exerts a profound impact on the culture and economy of the Island.  GHF's historic sites include the 1877 Barque ELISSA and the 1892 Bishop's Palace.
2)  ​In which buildings are MOVA Globes sold?
We sell MOVA Globes at our store "Eighteen Seventy One" located in Galveston's Strand national historic landmark district as well as in the Texas Seaport Museum Shop.
*Purchases from Eighteen Seventy One go towards the preservation and revitalization of Galveston Island.
3)  What do you think makes MOVA Globes so unique and what value do they bring to your visitors?
Most customers can't pass by without stopping to watch them. They love learning about how they work. They value having the warranty and the wide variety of styles.  Some have told us it's a great way to interest children in geography.  Visitors to the Texas Seaport Museum connect the MOVA Globes to what they've learned about the restored tall ship ELISSA's worldwide sailing routes during her career as a merchant ship.
4)  How can people help and support the foundation?
Visit our historic sites—Bishop's Palace, Elissa, Pier 21 Theater, or the Architectural Salvage Warehouse.   Join GHF as one of its more than 2,000 members or volunteer on board Elissa, at Dickens on the Strand, or the Galveston Historic Homes Tour.
With its impressive historic sites, charming retail districts, and unique restaurants, Galveston Island is a one-of-a-kind American landmark that you should add to your bucket list.
View all GHF retail locations here: http://www.galvestonhistory.org/shopping/shopping-locations
To learn more about GHF, support the island, or make donations, please visit http://www.galvestonhistory.org/
Galveston Island not on your immediate travel plans? Find a MOVA Retailer near you.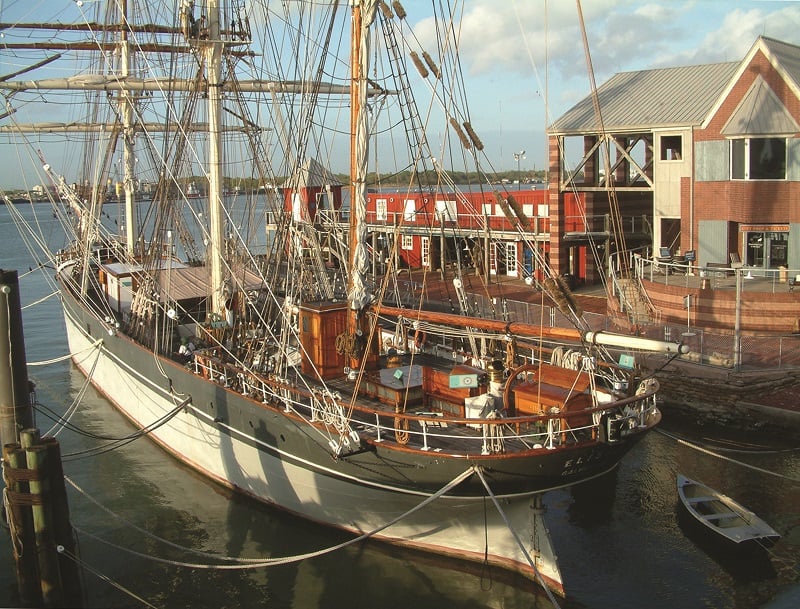 Related Posts