Thinking about your travel destinations for the new year? MOVA Globes presents our top four picks for jetsetters on the hunt for less-traveled locales that make for great adventures and lasting memories.
1. Rwanda
A small, stable East African country with diverse landscapes, Rwanda boasts much of the flora and fauna that makes Sub-Saharan Africa famous. In the savannas of Eastern Rwanda, go on game drives in less-trafficked nature reserves for a personal, up-close experience with lions, zebras, giraffes and more. Nyungwe Forest, located in southwestern Rwanda, is  considered the best-preserved Central African mountain rainforest and a top spot to view a wide range of primates and birds. Of course, the big draw to Rwanda are the mountain gorillas. Gorilla trekking permits, which you should arrange in advance, allow you to watch these gentle creatures living along the steep, verdant slopes of Virunga National Park.
Besides having everything a nature-lover could ask for, Rwanda has its share of cultural attractions. The easy-going capital, Kigali, rests among rolling hills and features art centers and markets. A place for education and reflection, the Kigali Genocide Memorial Center is a must-see, providing a sobering insight into the genocide that took the lives an estimated 1 million Rwandans in 1994.
2. Ko Chang & Ko Mak, Thailand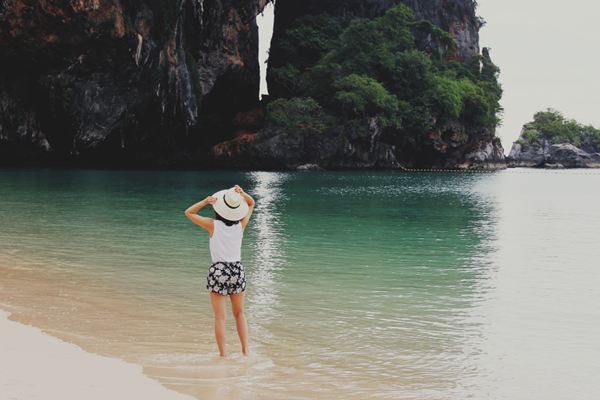 Thailand has long been a favorite beach destination for its alabaster sands and cerulean waters. Travelers tend to flock to big name beaches and islands like Phuket, Krabi, and Ko Samui. There is, however, an often-overlooked archipelago off the eastern shores of Thailand, near Cambodia. These islands do not feature the lavish resorts common to better-known beaches, but what these islands lack in luxe accommodations, they make up for in authenticity and tranquility.
Ko Chang has miles of stunning coastline dotted with villages and small resorts built up to the water's edge. Coral reefs and smaller islands off the coast make for countless snorkeling and diving spots. The sparsely-populated island interior, comprising mostly dense jungle, is the backdrop for serious adventuring like elephant rides, hikes, and ATV riding.
Smaller and less populated, Ko Mak is an island about a forty minute boat ride from Ko Chang. The island can be ridden around by bike in a day, taking you by some of the most pristine, deserted and stunning beaches your eye will ever behold.
3. Slovenia
The capital of Slovenia, Ljubljana, is a European treasure featuring architecture spanning the Medieval to the contemporary. This smallish, easily-accessible city is nestled along the banks of a river lined with cafes and shops. Ljubljana is one of a handful of urban centers in a country otherwise characterized by hamlets sprinkled among rolling hills of forest and farm.
Provincial, charming, and leisurely-paced, Slovenia is not without its thrills. Go whitewater rafting in the River Soča, a fast-flowing, emerald-colored river that cuts through the Soča Valley in the dramatic Julian Alps. Located in the northwestern portion of Slovenia, the Julian Alps are complete with alpine lakes, craggy peaks and lush meadows for memorable hikes, drives, or winter sporting.
If you are looking for seaside time, there is the city of Piran. Sitting at the end of a peninsula jutting into the Adriatic Sea, Piran was historically Roman and Venetian controlled. Its past is present in colorful and ornate architecture and the urban layout of small streets and wide plazas. About an hour's drive northeast of Piran is the not-to-be-missed Predjama Castle. This Medieval wonder is built into the side of a mountain and connected cave system, giving it unique protection against centuries of fabled raids and sieges.
4. Carretera Austral, Chile
Chile's Route 7, better known as the Carretera Austral, is called a highway although much is dirt road interspersed by ferry crossings. Compared to the ever-popular Torres del Paine National Park, the Patagonia scenery along the Carretera Austral is more diverse and less traveled.
Running just over 1,200 miles, Carretera Austral begins in the port city of Puerto Montt in the north and culminates in the village of Villa O'Higgins in the south, the gateway to the Southern Patagonian Ice Field. Often driven from north to south, the road takes you from the Los Lagos Region and through sweeping fjords and temperate rainforests. As you continue south past soaring peaks, stop off at Queulat National Park to view a hanging glacier, accessible by hike or boat.
Another recommended side trip is hiking up the Cerro Castillo. With majestic peaks reminiscent of a castle (giving it its name), the mountain offers stunning views of the Ibañez River valley and adjacent glaciers. Just south of Cerro Castillo is the second largest lake in South America, Puerto Rio Tranquilo. Here you can explore marble caves, cathedrals, and chapels. These unique marble formations were formed from hundreds of thousands of years of wind and glacial water erosion. Another to-do at Puerto Rio Tranquilo is a glacier tour at Laguna San Rafael National Park.
Finally, no drive down the Carretera Austral is complete without exploring the area around Villa O'Higgins. A hiker's and mountaineer's dream, the place where the Carretera Austral ends is characterized by rugged landscapes and glaciers of every shade of blue. A popular circuit is walking about 4 miles to the colorful Argentine village of El Chalten.
Memorialize Your Adventures
Want to remember the places you've explored? A MOVA Globe, using hidden magnetic and solar technology, turns on its own for an object that is more than a globe; it's a piece of art and an engineering marvel. Consider our globes as a memento of where you've been and where you're going, or as an unexpected gift for the jetsetter in your life.