Van Gogh Harvest MOVA Globe
Rolling hills of golden wheat are punctuated by rural homes and farmers hard at work in this stunning recreation of one of Van Gogh's classic paintings.
Often considered one of Van Gogh's most successful paintings during his lifetime, The Harvest depicts peasant life in vivid detail. Yellow and gold strokes allow one to feel the heat of the day as farmers gather wheat from their fields in France. Blue skies are seen behind towering mountains in the backdrop, indicating the vastness of the countryside. We've taken this painting and resized it to fit our 4-inch globe. As it rotates, it's easy to take in every detail from a whole new vantage point.
Turns using ambient light
Hidden magnets provide movement
No cords or batteries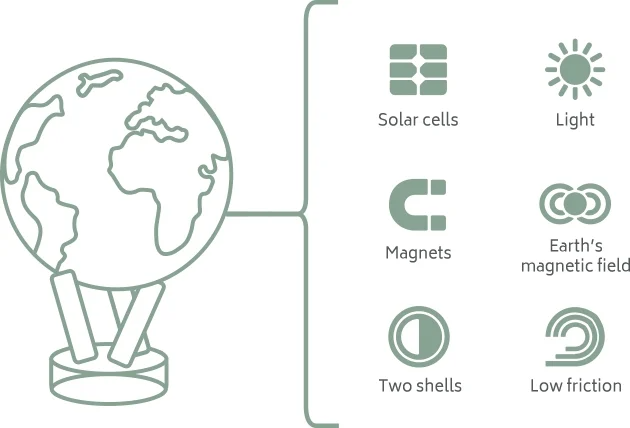 MOVA Globes combine effortless performance with eye-catching graphics. Each handcrafted globe mingles vibrant artwork with our patented technology for flawless rotation without batteries or messy cords. Hidden solar cells use ambient light for power, while the earth's magnetic field provides the necessary torque. These elements work in unison to power a whisper quiet mechanism, allowing the globe to rotate within a clear outer shell. Each piece is assembled with such precision, it appears the inner and outer layers are one – rotating without any outside power source.
MOVA Globes are assembled by hand using the highest quality materials. Every MOVA Globe is guaranteed to be free from defects in materials and workmanship for 1 year from the original date of purchase when handled with proper care.