The Constellations MOVA Globe is one of our most eye-catching and dazzling designs, displaying 88 constellations recognized by the International Astronomical Union. Constellations are groups of stars that have imaginatively been linked together to depict mythological characters, animals, and objects from human history. Here are five features and facts to know about the Constellations MOVA Globe.
1. The Milky Way
Our solar system is part of a spiral galaxy – a large group of stars, gas, and dust bound together by gravity – called the Milky Way. We call it the Milky Way because it appears as a milky band of light in the sky. The Milky Way's galactic center is shown wrapped around the MOVA Globe and is depicted by hundreds of dots to capture the immense number of stars packed in its real-life counterpart.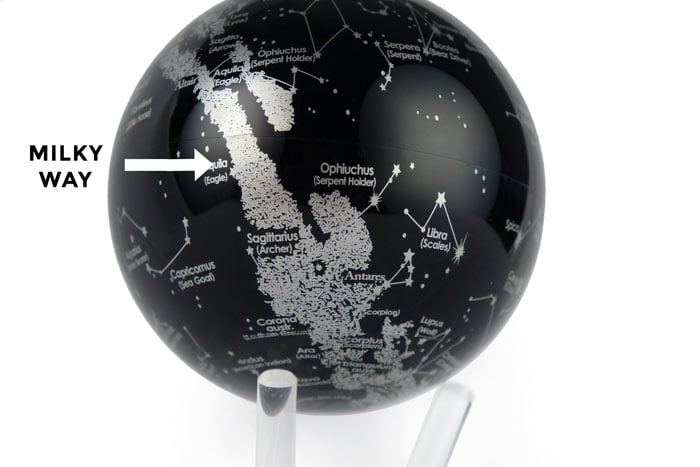 2. North Celestial Pole
The constellations appear to rotate counterclockwise around a fixed point at the top of the globe. This point is known as the north celestial pole. The globe as a whole shows our view of the constellations in the night sky.
3. Stars and Lines
The stars are represented on the globe by various circles, dots and star shapes. You'll notice that some dots on the globe look bigger than others. The varying sizes of the dots show the brightness of stars, with larger dots representing the brightest stars. Brighter stars are also shown with rays. The lines going through the stars outline the constellations.
4. Biggest and brightest
The largest star constellation in the Milky Way is Hydra, while the brightest star is Sirius.
5. Constellations revealed
The above pictures show our 4.5″ model of the Constellations MOVA Globe. The 8.5″ model, with its impressive size, is packed with additional detail and depicts the animals and figures that represent each constellation. Supplementary details include a legend to denote brightness magnitudes and an ecliptic, a line that shows the Sun's apparent path throughout the year.
Decor Ideas
The Constellations MOVA Globe fits well with most decor because of its eye-catching black and silver color combination and celestial theme. For modern decor lovers, marble and white surfaces make the globe stand out. Crystal and metallic objects are excellent complements to style with the globe.
The Constellations MOVA Globe is also perfect for intimate, endearing settings like wedding decor and nurseries. In addition to other star-themed accessories, colorful flags and banners, picture frames, and green plants make a delightful contrast with the globe's minimal color scheme.
Related Posts