This month on MOVA, we are celebrating the work and contributions of museums nationwide. More than just tourist attractions, museums are valuable centers of discovery – spaces that bring people together to learn something new about the world. Museums thrive on our quest for knowledge and our patronage and support of their vision. Thus our next reseller spotlight takes us to Golden History Museums in Golden, Colorado, where we learn about miniature world of Golden and the town's rich history and way of life through three different sites. We sat down with Shelly Bleckley, Golden History's Visitor Services Coordinator, to talk about the museum's mission statement, exhibits, and experience with MOVA Globes.
Tell us a little bit about the beginnings of Golden History Museums.
The museum opened in 1939 as the Jefferson County Museum, and has been housed in different sites under different names. In 2010 the museum came under the management of the City of Golden. By then we combined 3 sites, the Golden History Center, Astor House Museum, and Clear Creek History Park. They all stand within about 3 blocks along the banks of Clear Creek in Downtown Golden. The History Center is a gallery-based museum, the History Park contains the original log buildings of the Pearce Homestead (including a nineteenth century chicken coop and our very popular flock of chickens) and the Astor House is an 1867 hotel turned boarding house which is currently under renovation.
Could you tell us a little bit about what you do as the Visitor Services Coordinator?
In small museums, staff members wear many hats. I focus on anything that affects visitors directly, like the condition of the facilities, the supervision of the customer services staff, and the shop purchasing and merchandising. I also guide money handling practices and revenue reporting, and I administrate our POS and ticketing systems.
What makes the history of Golden unique?
Golden's history is a microcosm of the history of Colorado. Golden began in 1859 as a staging site for the Colorado Gold rush. For several years, it was the territorial capitol of Colorado. The Coors brewery has been a huge provider of jobs since the 1870's, and a healthy microbrew industry has sprung up in its shadow. The Colorado School of Mines is a fantastic engineering school that has also been here since the 1870's providing expertise in mining the industry (first gold, then silver, followed by coal and clay), but now provides all kinds of innovative tech types. Also, the first identified T-Rex fossil was discovered near here.
What can visitors expect to see?
The Golden History Center is currently showing: Made In Golden—featuring examples of innovation and invention created here; Tune It Up—an exhibit of period instruments and a music lounge for enjoying examples of local music; and Show and Tell—great objects and stories from our collection. Clear Creek History Park is open and free from dawn to dusk daily. It's a great place for a picnic and to soak in some Colorado scenery. Astor House will reopen in 2017 and will focus on boarding house life in America.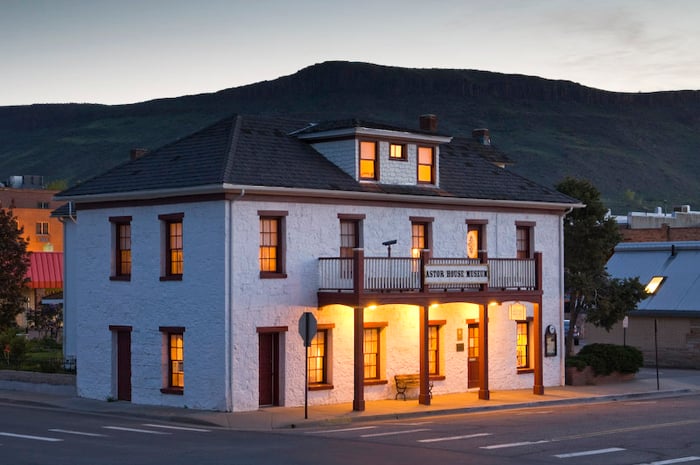 What is the most popular exhibit? The exhibit you're most proud of?
Right now it's probably Made In Golden. It's very interactive and surprising. The aluminum can was invented in Golden and we have the original industrial film about it for people to watch. We also have an Epilog Laser etcher that visitors can use to make themselves a souvenir.
Your vision is to have a community that lives and loves its history. How do you achieve on a daily basis?
We have a fabulous classroom outreach called Building Colorado that involves 4th grade students in making the decisions that shape a state. We also look for exciting programs for adults that encourage our community to engage in its history. We are really very fortunate that the citizens of Golden are very interested in their past and very active in building the town's future.
When did you first discover MOVA Globes? What made you decide to have them at your museum?
I first ran into them at the Denver Trade Mart and was immediately drawn to them. I was new to the museum at that time and was tasked with reinvigorating an extremely moribund shop. Since we are surrounded with some great boutique shopping, we decided that a bookstore was a better choice for us, but I wanted a few gifts that would fit our brand and look good with books. MOVA Globes were perfect for that and we've been very happy with the response.
What are your customers' reactions to MOVA Globes? Any memorable responses?
Mostly folks ask how they work. I do love encouraging older children to hold one and their surprise when the globe continues turning in their hands.
Which model is your favorite and why?
I personally love the Satellite View with Cloud Cover. I just find the rich color engaging and almost expect the weather to change as it turns.
What's next for Golden History Museums? Do you have any plans, goals, developments?
Coming in September, we'll be opening a new exhibit called Epic Events. It will include artifacts from our collection and interactive activities that will cover the full sweep of Golden's history and give visitors a framework in which to place our more specific exhibits and programs. In the next couple of years, we'll be opening a research lab in the Golden History Center and reopening Astor House Museum with a brand new interpretation focusing on boarding house life. And, of course, every June we host the Golden Music Festival in Clear Creek History Park. It's a bluegrass festival that's been happening in Golden for the last 20 years and we're deep into preparations for this year.

923 10th St
Golden, CO 80401

facebook.com/goldenhistorymuseums
While big-name, major science and art museums are no doubt spectacular, small museums like Golden History Museum truly offer a unique experience for everyone and give a special, inside look into a community's past, present and future. Do you have a favorite museum? Let us know on Facebook!
Related Posts